Mirage Esthetics Spa 11th Anniversary Event
August 11 | 5:00 pm

-

8:00 pm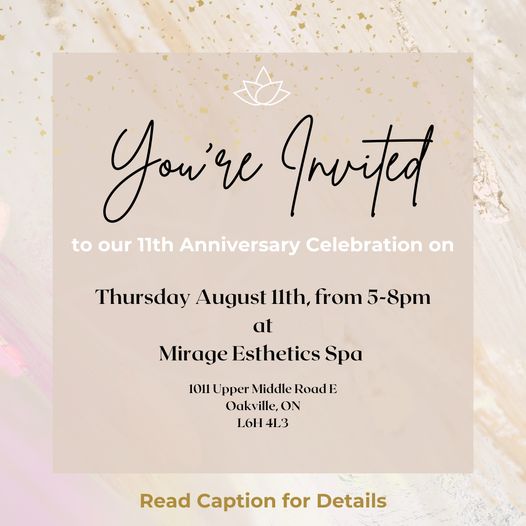 You're Invited to our Biggest Event of the Year!​​​​​​​​
​​​​​​​​
We will be hosting our 11th Anniversary on Thursday August 11th from 5:00pm – 8:00pm. ​​​​​​​​
​​​​​​​​
We will be having our biggest sale of the year with tiered discounts, gifts with purchases, door prizes, food, drinks and so much fun.​​​​​​​​
​​​​​​​​
We want to share our gratitude to all our amazing clients who have continued to support us over the years, especially through the most difficult times. ​​​​​​​​
​​​​​​​​
We have a special guest, Darlene Maillet, from Eminence Organics for a Skincare 101 Q + A session. ​​​​​​​​
​​​​​​​​
Our microblading brow artist will be available for a quick consultation to see if microblading is right for you. ​​​​​​​​
​​​​​​​​
Meet the dynamic duo from the Olfactory Lab to hear their amazing story.​​​​​​​​
​​​​​​​​
Our make up artist will be offering complementary colour matching with our selection of clean makeup. ​​​​​​​​
​​​​​​​​
We have a fun-filled night planned and would love for you to join us. Feel free to share this post with your friends! ​​​​​​​​
​​​​​​​​
We look forward to celebrating with you.